Tighten Décolletage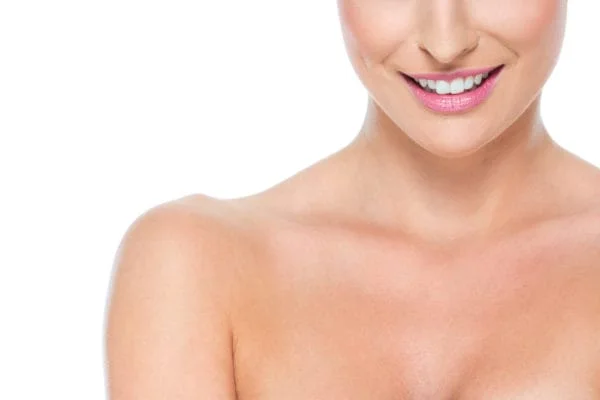 Whether you're looking to wear that flattering low cut dress, or are looking forward to donning your swimsuit on holiday when your décolletage (chest and neck area), is likely to be on display, it's likely that you want it to appear as smooth and wrinkle free as possible.
However, as we age, the décolletage area often shows signs of aging, with thinning skin, and the emergence of lines and wrinkles which can damage confidence when showing the upper chest area.
A recent survey revealed that 60% of women are as unhappy with their décolletage as they are with facial lines and wrinkles, so for many rejuvenation of the chest area is the answer. Eve Clinics are based in Leamington Spa and offer revolutionary and proven treatment to restore the skin around the upper chest area.
C02 Laser Treatment for chest area
We offer a safe and effective treatment to reduce lines, wrinkles and sagging skin on the chest area using SmartXide C02 laser treatment. It works by using highly concentrated laser beams which break down the outer layers of skin. By causing what are known as micro wounds to the area, we encourage new skin growth. This in turn encourages the production of collagen and elastin, creating new firmer and smoother skin growth.
With C02 fractional laser, you can achieve a smoother, tighter and more even décolletage area, and the production of collagen will continue to improve overall results for up to six months.
Laser Skin Resurfacing for décolletage
The décolletage is often one of the most neglected areas when it comes to our body. While individuals take great care to look after and protect areas such as the face, the upper chest often gets overlooked until it's too late.
The skin on the chest is incredibly thin and is lacking is the oil glands the keep other area, such as the face, wrinkle and line free. The sub-dermal tissue in this area is also prone to volume loss and hollowing thanks to underlying tissue fat breaking down as we age.
Sun exposure can be a major factor when it comes to premature aging on the chest area, with manifestations of issues such as pigmentation, sun spots, fine lines and the formation of skin crepiness.
By resurfacing the top layer of the epidermis, we can overcome the appearance of damage and aging, leaving rejuvenated skin with a more youthful appearance.
Will C02 laser treatment work for me?
You are likely to be a good candidate for décolletage rejuvenation treatment if you are generally healthy.
If you have wrinkles, fine lines or loss of volume to the neck and chest area, or suffer with age spots and pigmentation across the décolletage, C02 laser resurfacing is likely to work well for you.
We always undertake a full consultation with you to talk you through expected results, any expected side effects and your long-term goals.
Why choose Eve Clinics for skin rejuvenation in Leamington Spa?
Eve Clinics are a leading provider of aesthetic laser treatments offering services to customers in Leamington Spa and the surrounding areas.
We are leaders in providing DEKA SmartXide C02 laser treatments to treat a wide range of aesthetic issues and skin conditions.
Taking the comfort and safety of our patients incredibly seriously, we undertake an in-depth consultation prior to any treatment to ensure that we offer the correct treatment for your needs and desired results. We will talk you through how the treatment works, what you can expect, and the best practice for aftercare.