‌Dermatosis Papulosa Nigra (DPN) is a skin concern often in the form of small brown spots. These brown spots often form on those with a darker skin type and are totally harmless. They are small, raised skin lesions that appear on the face, neck and upper body. DPN removal with the CO2 laser requires no downtime, is virtually pain free and provides excellent cosmetic results. Patients with brown spots can also avoid the risk of scarring and lesion regrowth.
Treatment Benefits
Permanent removal or brown spots

Suitable for those with darker skin

Performed by a laser specialist

Quick treatment, minimal number of sessions required
DPN or brown spots typically form on those with Fitzpatrick skin types III to VI. The skin condition is extremely common, with up to 30% of those with darker skin experiencing DPN growth at some point in their life. Whilst DPN can look unsightly, the condition is harmless and other than for cosmetic reasons, they shouldn't present a problem. Lesions are normally a few millimetres wide and high, and often multiple lesions grow at once. ‌Dermatosis Papulosa Nigra is a popular type of non-cancerous skin growth, or type of Seborrheic Keratosis. There is some suggestion that DPN is hereditary, however the exact cause is unknown. Exposure to sunlight is a contributing factor for DPN growth too. They normally occur as one ages and are often mistaken by individuals for moles. This is why you should seek expert advice and do your research for the most suitable aesthetic clinic.
DPN removal is available at our clinic in Leamington Spa with the DEKA SmartXide Touch CO2 Laser. Here the laser specialist will assess your suitability for treatment whilst taking a full medical history. The DEKA SmartXide Touch CO2 laser offers minimal risk, excellent cosmetic results and is backed by decades of innovation.
DPN lesions are typically found on the pigmented skin of Caribbean, African or Asian individuals. Most find that these brown spots increase in size and more will appear over time. If you are looking for brown spot removal, the CO2 laser is the best option and far better than surgical removal or other old techniques and devices. Surgical removal involves cutting the lesion and threading the skin, increasing the chance of scarring and infection. With surgery come risks of hyperpigmentation or hypopigmentation, meaning the area of skin turns lighter or darker following treatment. With the DEKA SmartXide Touch you can prevent this.
The SmartXide Touch is a CO2 ablative laser and acts to quickly and painlessly remove DPN with very little downtime. It involves high energy being directed towards the lesion without it affecting the surrounding tissues. This controlled removal of the lesion stimulates the body's self-healing abilities to promote new collagen. Due to the laser sterilizing the lesion, no blood will be present. Normally patients will need only one session for effective results.
Present in more than 120 countries, DEKA has always been an epicentre of innovation for the entire global medical sector: unprecedented applications and systems for medicine, surgery and aesthetic dermatology.
Depending on how large the DPN lesion is and the number of brown spots, the procedure will take around 10 to 30 minutes.
Prior to treatment, we use a numbing cream for your comfort. After the procedure, patients can normally return to everyday activities straight away. If the lesion being removed is close to the eyes there is a small chance that the eyes will be impacted temporarily by this, resulting in mild swelling. In the rare event, this will subside within a few hours. The procedure is not risky for the eyes but needs to be carried out by the Doctor who may need to use intraocular eye protection.
We offer free revisions for up to 3 months if there is any reoccurrence of the lesion. If scarring occurs, Eve Clinics specialise in scar removal too and patients are invited for treatment. Please see the scar management page here.
As well as removing DPN, our Doctors and laser specialists can also remove other lesions. Including moles, cysts, fibromas, keratosis, Xanthelasma, warts, sun damage, verruca's and skin tags.
Eve Clinics is one of the only medical led clinics removing DPN and brown spots with the world renowned DEKA SmartXide Touch CO2 laser.
Frequently Asked Questions
Spotting DPN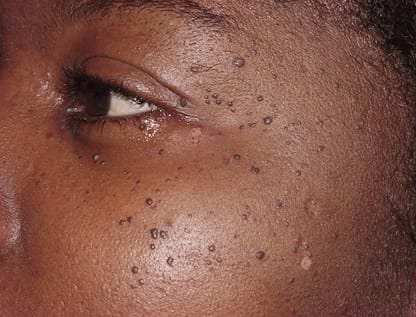 I went to Eve clinics to get a skin tag and DPNs removed. I spoke to Florina and had a consultation with the doctor and they were both really nice and professional. Everything was done the same day and she called me after to check up on me and how I was healing. The skin healed nicely with no scars. They also have very good prices too. Would recommend 5/5
Other treatments you may be interested in