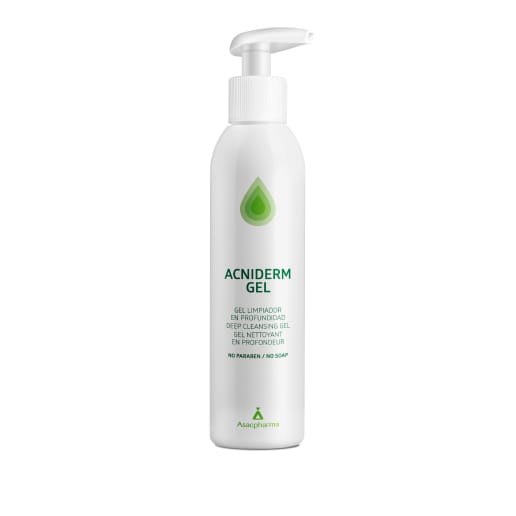 Dermatological Care
| | |
| --- | --- |
| Manufacturer | Asacpharma |
| Range | CPI |
| Size | 115ml |
| Key Ingredients | Salicylic acid, zinc PCA, menthyl lactate, chlorhexidine digluconate, allantoin, Citrus limonum, Mentha piperita |
Oxygenate your skin with Acniderm Gel face wash for oily, seborrheic and acne prone skin.
All our products come from leading manufacturers
We use modern security and payments to keep you safe
We send all our products via Royal Mail Signed For® 1st Class
| | |
| --- | --- |
| Manufacturer | Asacpharma |
| Range | CPI |
| Size | 115ml |
| Key Ingredients | Salicylic acid, zinc PCA, menthyl lactate, chlorhexidine digluconate, allantoin, Citrus limonum, Mentha piperita |
Acniderm Gel is a deep cleansing gel for oily, seborrheic and acne prone skin. The key ingredients help to remove the build up of oil and clean the pores as well as inhibiting the production of the sebo-sudoral glands preventing the production of sebum.
The Salicylic acid in Acniderm helps with the exfoliation of the skin removing the dead skin and cleaning deep into the skins pores, has a keratolytic and anti-inflammatory effect reducing the pores size and allows the skin to breath better.
Zinc PCA is an antiseptic that inhibits the production of sebum.
Allantoin is an anti-irritant that helps with the natural healing of the skin.
Citrus Limonum is used as an antiseptic and has healing properties.
Menthyl Lactate calms and refreshes the skin with anti-bacterial properties
Key Ingredients
Salicylic acid, zinc PCA, menthyl lactate, chlorhexidine digluconate, allantoin, Citrus limonum, Mentha piperita
How to Use
Wash face morning and evening leave to act for 2 minutes and rinse with water. For best results use in conjunction with Acniderm Cream