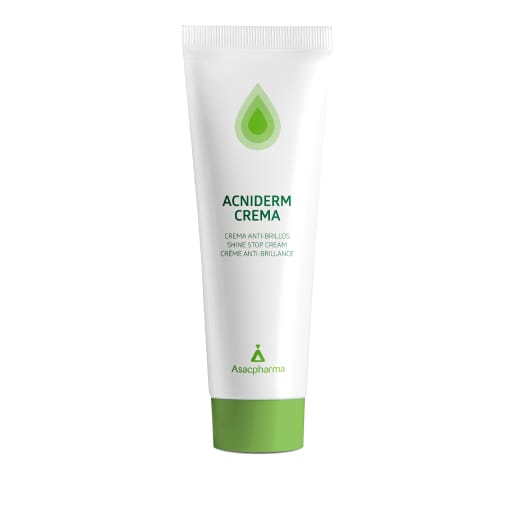 Dermatological Care
| | |
| --- | --- |
| Manufacturer | Asacpharma |
| Range | CPI |
| Size | 50ml |
| Key Ingredients | Salicylic Acid, Zinc PCA, Capryloyl Glycine, Malic Acid, Sodium Salicylate. Plantago Lanceolata Leaf Extract, Mahonia Aquifolium |
A mattifying shine free moisturising cream for daily use on seborrheic and acne prone skin. Sebum regulator and anti-inflammatory to reduce the pore size.
All our products come from leading manufacturers
We use modern security and payments to keep you safe
We send all our products via Royal Mail Signed For® 1st Class
| | |
| --- | --- |
| Manufacturer | Asacpharma |
| Range | CPI |
| Size | 50ml |
| Key Ingredients | Salicylic Acid, Zinc PCA, Capryloyl Glycine, Malic Acid, Sodium Salicylate. Plantago Lanceolata Leaf Extract, Mahonia Aquifolium |
Acniderm Cream is daily moisturising cream that reduces your shine by mattifying your skin, recommended for seborrheic and acne prone skin. The key ingredients help to inhibit the production of the sebo-sudoral glands preventing the production of sebum and keeps the skin moisturised and healthy.
The Salicylic acid in Acniderm helps with the exfoliation of the skin removing the dead skin and cleaning deep into the skins pores, has a keratolytic and anti-inflammatory effect reducing the pores size and allows the skin to breath better.
Zinc PCA is an antiseptic that inhibits the production of sebum.
Plantago Lanceolata Leaf Extract and Mahonia Aquifolium together have an anti-inflamatory, sebum regulator and exfoliant.
Key Ingredients
Salicylic Acid, Zinc PCA, Capryloyl Glycine, Malic Acid, Sodium Salicylate. Plantago Lanceolata Leaf Extract, Mahonia Aquifolium
How to Use
Apply morning and evening after washing with Acniderm Gel