Tummy tuck skin tightening laser therapy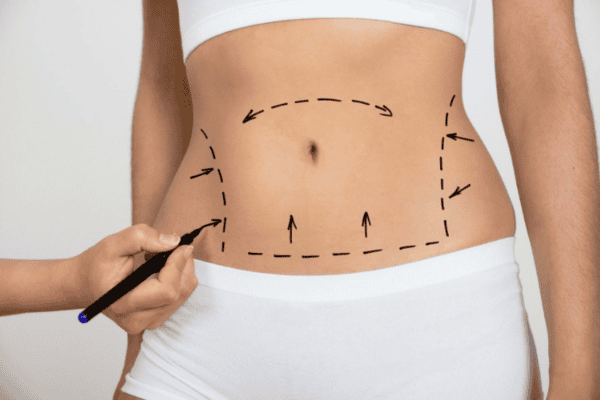 Tummy tucks, namely abdominoplasties, is a procedure which endeavours to remove excess skin and residue fat around the belly. Tummy tucks are the go-to treatment for those post childbirth and weight loss. Our skin is a notorious shape shifter, when our bodies change shape it does the same. This is an incredible process which allows us to be all sorts of shapes and sizes. The caveat to this is that when we revert back to our before shape the skin will not follow, thus creating a look of excess. This can be an aesthetic issue for many leading those to sought treatment to improve their look. This is where Eve Clinics comes in, with our innovative and sophisticated laser treatment right in the heart of Knightsbridge, London.
Our CO2 laser treatments are very popular amongst the aesthetic industry due to their non-invasive and safe nature. With a combination of regeneration, resurfacing and rejuvenation the Co2 Laser uses the effects of both laser and radiofrequency. This achieves an enhancement of skin rejuvenation through new collagen stimulation giving a fantastic result of younger looking skin with the added benefit of scar-free tightening.
At Eve Clinics in London, Knightsbridge we offer tummy tuck skin tightening laser therapy to anyone who has undergone tummy tuck surgery. Our DEKA SmartXide Touch CO2 laser treatment could be the perfect answer, avoiding any surgical intervention with the risk of complication and scarring. Our clinic is administered and run by some of the most experienced in the aesthetic industry with over 20 experience our specialists are sure to provide you with unrivalled treatment. In addition, our specialists know the importance of comfort, confidence and care which is why we make sure you are informed every step of the way. This includes a pre-treatment consultation completely free, here you can have an in-depth conversation with our specialists where they are happy to answer any of the questions you may have. On top of this our specialists aim to understand your requirement fully, taking the time to go through your expectations both in results and time.
As mentioned before, comfort is of paramount importance, due to the co2 laser therapy treatment being a non-surgical treatment, the overall comfort is highly achieved. A local numbing cream will be administered to the area, once the numbing cream has the set the treatment commences, dependent on the individual timings of the treatment will vary (this will be discussed with you at your free consultation) One of the greatest benefits of this sort of treatment is that it requires no downtime, fitting nicely into a lunchtime treatment!
So, you've taken that first time in improving your aesthetics now you can take that final step to finalising the journey of perfect skin. Contact us today to book your consultation with our highly experienced specialists at Eve Clinics, London Knightsbridge. Our specialists will be more than happy to give you all the information you need about our sophisticated DEKA CO2 laser tummy tuck skin tightening and scar removal treatment.