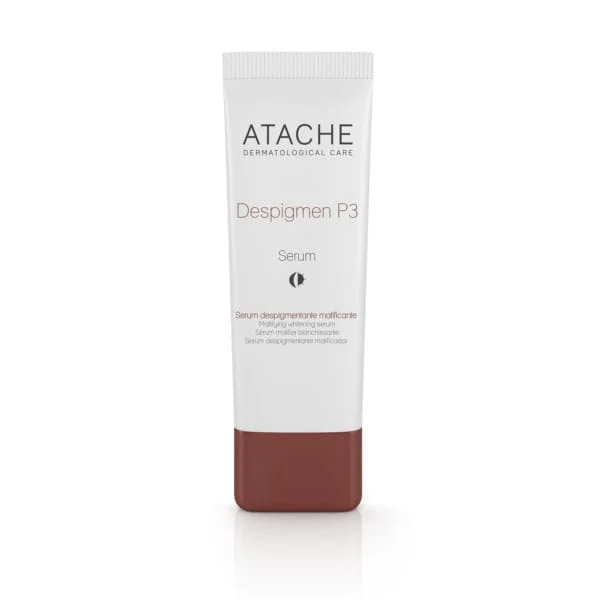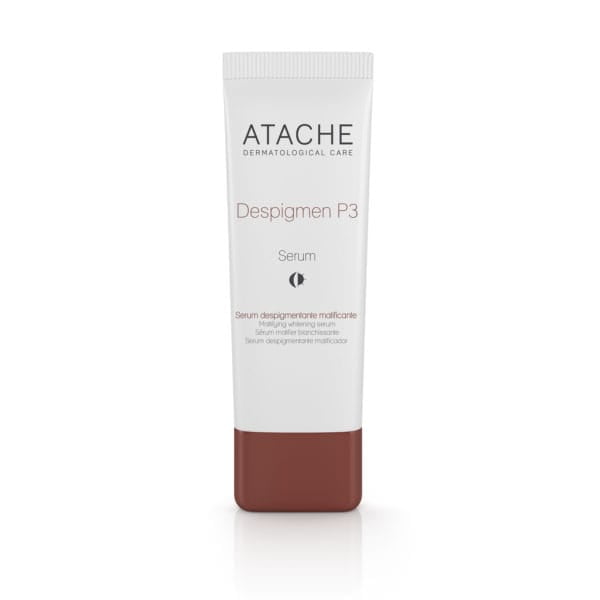 Dermatological Care
Mattifying Whitening Serum
| | |
| --- | --- |
| Manufacturer | Atache |
| Range | Despigmen P3 |
| Size | 30ml |
| Key Ingredients | Vitamin C, A and E, Polypodium leucotomos, liquorice extract, kojic acid, arbutin. |
A mattifying whitening serum to help lighten uneven skin tones and patches.
All our products come from leading manufacturers
We use modern security and payments to keep you safe
We send all our products via Royal Mail Signed For® 1st Class
| | |
| --- | --- |
| Manufacturer | Atache |
| Range | Despigmen P3 |
| Size | 30ml |
| Key Ingredients | Vitamin C, A and E, Polypodium leucotomos, liquorice extract, kojic acid, arbutin. |
This serum is designed to whiten, mattify and produce a more even skin tone. Using the active ingredient liposomal to penetrate deep into the epidermis whitening skin and leaving your skin feeling more hydrated.
Hyper-pigmentation is a natural occurrence in the skin that can be cause by a number of factors including:
Melasma
Upper Lip Pigmentation and Spots caused by the use of oral contraceptive
Sun Spots, Sun Lentigo
Age Spots
Post Inflammatory Pigmentation (Burns, Scars and Cuts)
To prepare darker skin types prior to laser treatments
Prevention of hyper pigmentation after laser treatments or surgeries
This serum is designed to work on the areas with hyper-pigmentation penetrating deep into the skin and inhibiting the production of melanin in the skin. The inhabitation of the melanin causes a natural lightening of the skin.
This serum is suitable for and oily complexion leaving your skin feeling smooth and mattified.
For normal or dry skin types, the SPF 50+ day cream can be used over the top to better moisturise the skin and provide sun protection.
Key Ingredients
Vitamin C, A and E, Polypodium leucotomos, liquorice extract, kojic acid, arbutin.
How to Use
Apply with a gentle massage on the face at least twice a day, being able to increase the frequency if necessary.
For best results we recommend using with the SPF 50+ Day Cream and Punctual Cream.
Results will usually show withing 4-6 weeks however sometimes you may require more advanced treatment, if you would like to have a consultation please contact our specialists.