CO2 Laser Skin resurfacing is a non invasive and non surgical treatment used to rejuvenate skin using thermal heat. Used to help lessen or remove fine lines, wrinkles, sun damage and minor imperfections.
Should I get Laser Resurfacing?
This procedure is a fantastic way for anybody to improve the look of their skin for a wide veriety of conditions:
Age Spots
Fine Lines
Wrinkles
Crow's Feet
Uneven Skin Tone
Minor Scars
Acne
Contact us today to talk to one of our specialists to see how we can help you.
What results can I expect from Skin Resurfacing?
CO2 Laser Resurfacing uses heat to cause the body to naturaly promote collagen production under the skins surface.
The new collagen will will produce smoother and firmer skin.
Laser Skin Resurfacing can take a number of treatments with enough time left inbetween for the skin to naturally heal. The time needed between each treatment and how many treatments you need will depend on exatcly what needs to be treated and how larger area, contact one of our specialists to discuss your treatment plan today.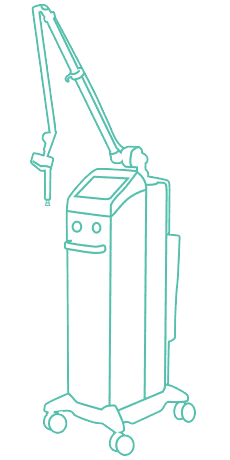 What can I expect on the day of treatment?
Because laser resurfacing is a non invasive and non surgical treatments, appointments will last anywhere between 20-40 minutes depending on the type of procedure needed and the size of the area.
On arriving at the clinic, the area to be treated will have a numbing cream applied for pain relief, as no anesthetics are used all treatments are outpatient procedures so there will be no need to stay overnight and will be able to leave soon after the treatment.
If you want to discuss any part of the treatment with one of our specialists then please to contact us where we will be happy to talk you through any questions you may have.
Frequently Asked Questions
Treatments using a CO2 Laser for Skin Resurfacing will usualy take between 20 to 40 minutes. A more accurate time frame can be given after your consultatiuon.